Dogtoberfest
Saturday, October 27th 10am - 3pm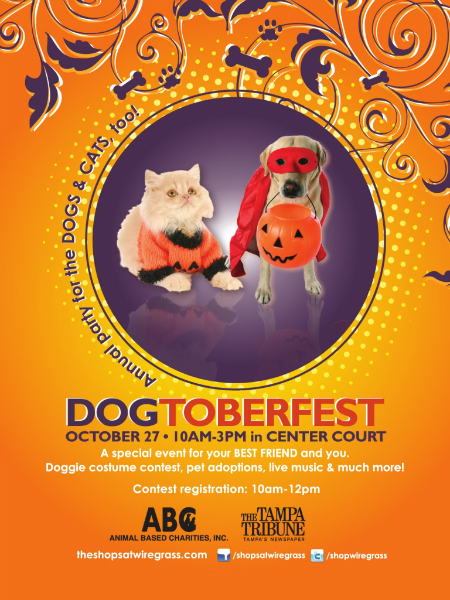 The Shops at Wiregrass 4th Annual Dogtoberfest, a celebration all about your best friend! Live music, doggie costume contest, doggie obstacle course, and on-site pet adoptions from various Tampa Bay area rescue organizations. And because everyone knows that all dogs are winners, every dog in costume receives a medal! All proceeds to benefit local animal shelter and adoption agencies.
For official contest rules, click here.
For information on how to participate and prizing for the contest, click here.
For app photo voting contest rules, click here.
To partcipate in the Facebook Photo Contest, click here.
Limited to dogs and cats only unless prior approval is received.
For more information, please contact Cat Crusaders at dogtoberfest@tampacatcrusaders.org or call 813-472-9700.
UPDATE: Thank you to everyone that attended and congratulations to the 2012 Winners!
Cutest
1st Place: Mocha Coconut – "Rub a Dub Mocha in the Tub" (Owner: Rachel Mele)
2nd Place: Sally – Hot Dog Stand (Owner: Susy Garduno)
3rd Place: Bentley – Tiger (Owner: Adam Becker)
Scariest
1st Place: Shabba – Bane from Batman (Owner: Tracy Critchfield)
2nd Place: Katie, Brody, Riley, Louie, & Sugar – T he Barking Dead (Owners: Julie Belcher/Cathy Earnest)
3rd Place: Diesel – Professional Paintball Player (Owner: Wayde VanVelkinburgh)

Celebrity Look-A-Like
1st Place: Sweetie – Oprah (Owner: Judy Kincaid)
2nd Place: Toby – Michael Phelps (Owner: Maureen Murray)
3rd Place: Tazi Tiara – Madonna (Owner: Lisa & Ed Fink)
Best Homemade Costume
1st Place: Bean – Ark of the Covenant with Indiana Jones (Owner: Beth Plakidas)
2nd Place: Baily, Bijou, Scooby, Chewie, Gretchen, Camilla, Stuart – Snow White & The Seven Dwarfs (Owner Jenna & Alex Jones)
3rd Place: Tiny – Buzz Lightyear & Tiny as the Martian (Toy Story) (Owner: Connor Okeefe)
Owner/Pet Look-A-Like
1st Place: Crystal – Poodle Skirt (Owner: Jennifer Landrigan)
2nd Place: Sirius – Pirate (Owner Jessikoh Fosse)
3rd Place: Baby – 1950's Sock Hop (Owner: Vanessa Castrogiovanni & Douglas Rivero)
Most Festive
1st Place: Gidget – Halloween Diva & Divette (Owner: Terri Dreger)
2nd Place: Fraser – Red, White, & Blue (Owner: Rich Catone)
3rd Place: Murphy – Lion (Owner: Peggy & Dennis Sundquist)