The Shops at Wiregrass
THE SHOPS AT WIREGRASS
28211 Paseo Drive
Wesley Chapel, FL 33543
(813) 994-4010
Permanent Leasing
Specialty Leasing
Partnership Marketing
The Shops at Wiregrass is an open-air retail and entertainment destination conveniently located on the corner of State Road 56 and Bruce B. Downs in Wesley Chapel, Florida. The center is a main-street style, pedestrian-friendly, outdoor lifestyle village. It features curved, tree-lined streets that invite lingering and relaxation encompassing 642,000 square feet of retail, restaurants and entertainment on 67 acres of land.
The mall features Macy's, Dillard's, JCPenney and 100 specialty retail stores and signature restaurants. It is a true gathering place for the growing populations of the Wesley Chapel and New Tampa area.
Wiregrass is located on the corner of State Road 56 and Bruce B. Downs Boulevard in Wesley Chapel, Florida.
Opened: 2009
Size: 642,000 square feet
Anchors: Dillard's
JCPenney
Macy's
Barnes & Noble
Pottery Barn
Contact Information
Permanent Leasing
The Shops at Wiregrass offers long term leasing options for restaurants, shops and entertainment uses. If you are interested in leasing long term space for a restaurant, shop or other use, please contact our leasing agent at Forest City Enterprises:
Alan Negrelli
(216) 416-3427
AlanNegrelli@ForestCity.net
Specialty Leasing
If you have a product or idea and would like to test it on a short term basis, The Shops at Wiregrass could be a great place to start your new enterprise. The Shops at Wiregrass can help you get your new business venture started through our Specialty Leasing Program. Contact our Specialty Leasing Manager for more details:
Steve Domonkos
(813) 753-9878
StevenDomonkos@ForestCity.net
List of Opportunities: There is an array of Specialty Leasing opportunities available within the shopping center. Here are some examples: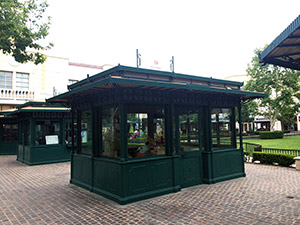 Kiosk the simple definition of a kiosk is a retail unit of approximately 100-200 square feet. The distinct difference between this unit and an RMU (cart) is that you operate your business from inside of it. It is most often a stationary space located in the common area. This can be leased short term or permanent.
Retail Merchandising Units or Retail Merchandising Unit most commonly referred to as a cart. It is approximately 50 square feet of retail space. You operate your business around it. It is typically mobile and in the common area. RMUs by nature are leased for a minimum of 3 months up to 1 year maximum. This gives you an opportunity to test your product without much overhead expense.

Inline space - also known as store space. The square footage of this pre-existing space can range in size depending on availability. Since inline space is something that the owner of a shopping center wants to have leased on a permanent basis, the availability can vary. Your agreement term is typically 1 year. OR, it can be something that is leased for seasonal use. This opportunity allows you the ability to gauge your potential among other national retailers without a large financial or time commitment.
Pop Up space pop up by definition is "to appear suddenly or unexpectedly". The Pop Up retail trend creates this same "limited time only" surprise for the customer. Retailers such as Target, JC Penney and eBay have all established creative pop up venues in recent years to introduce new products, build brand awareness, showcase style and design trends and/ or to give away exclusive goodies and treats. This is an excellent format to create a buzz about your product. Pop Up space can be common area, RMU or inline and is customarily 4-6 weeks.
Other Specialty Retail Opportunities: Opportunities exist to promote your business by way of on-site graphics, digital advertising and/or sponsorship. Contact the Specialty Leasing manager for more details.
Specialty Leasing FAQ
Q: Are there visual requirements?
Answer:
Businesses are required to meet each shopping center's visual standards. It is best to consult with a visual merchandiser for assistance. The Specialty Leasing Manager can provide referrals for professional visual merchandiser's in the area.
Q: Are fixtures provided?
Answer:
In most circumstances, the fixtures or props are provided by each merchant at his or her expense. These items are most often purchased through the visual merchandiser. The Specialty Leasing Manager may also be helpful in offering other fixture resources.
Q: Do I have to be open during mall hours?
Answer:
Yes. This applies to most specialty retail businesses.
Q: Is it required to make an appointment with a Specialty Leasing Manager?
Answer:
is in your best interest to meet with the Specialty Leasing Manager in person to discuss all details involved with opening your business in the shopping center.
Specialty Leasing Application
To learn more about the specialty retail industry, here is a link to the premier industry magazine.
http://www.icsc.org/publications/item/specialty-retail-report
Partnership Marketing
Our centers are the ideal place to introduce your brand to its target audience. Be visible and establish relationships with engaged shoppers through a variety of in-mall advertising options, event venues and sponsorship opportunities.
Deborah Detweiler
Director of Marketing
DeborahDetweiler@ForestCity.net
360° Brand Engagement Engage thousands of shoppers each day by creating an immersive experience that will showcase your products. We specialize in:
Brand Activation
Product Sampling & Trials
Special Event & Experiential Marketing
Interactive Product Engagement
Mall Marketing Events
Product Displays
High-Performance Media
Our attention-getting media opportunities will highlight your brand message and optimize its impact on shoppers.
Large Wall Graphics
Exterior Spectaculars
Standees
Amenity Sponsorship
Reach your target audience in the right place at the right time.
Play Area Environments
Soft Seating Experiences
Valet Stations
Holiday Sets
Customized Activations
Do you have a partnership opportunity you'd like to share? Call us so we can design the perfect one for you!