INAUGURAL FLAG RAISING CELEBRATION
FOR IMMEDIATE RELEASE CONTACT:
Greg Lenners / General Manager
Debbie Detweiler / Marketing Director
The Shops at Wiregrass
(813) 994-4010
greglenners@forestcity.net
debbiedetweiler@forestcity.net
NEWS & PRESS RELEASE
INAUGURAL FLAG RAISING CELEBRATION
The Shops at Wiregrass
Flag Day • Tuesday, June 14, 2016 • 7:00 p.m. – 7:30 p.m.
WESLEY CHAPEL, FL – June 1, 2016 – The Shops at Wiregrass will host an Inaugural Flag Raising Celebration on Tuesday, June 14th as a formal dedication of its newly constructed Flag Pole. The Flag Pole will be permanently located on Piazza Avenue at the valet circle near the restaurants.
The public is invited to attend. The ceremony will begin at 7:00 p.m. and will include the Presentation of the Colors by the Wesley Chapel Honor Guard, Pledge of Allegiance, and singing of our National Anthem by Eric Johnson. Local dignitaries will be recognized and County Commissioner, Mike Moore, will call for the raising of the Inaugural Flag.
"On behalf of The Shops at Wiregrass, we are excited to give our guests the opportunity to show respect for our flag and our country by participating in this patriotic celebration" said Greg Lenners, General Manager of The Shops at Wiregrass.
History of Flag Day (Source: http://www.usflag.org/): "Inspired by three decades of state and local celebrations, Flag Day - the anniversary of the Flag Resolution of 1777 - was officially established by the Proclamation of President Woodrow Wilson on May 30th, 1916. While Flag Day was celebrated in various communities for years after Wilson's proclamation, it was not until August 3rd, 1949, that President Truman signed an Act of Congress designating June 14th of each year as National Flag Day."
ADDITIONAL LINKS:
Website | Facebook | Twitter | Pinterest | Image Gallery | Calendar of Events | Press Releases
ABOUT THE SHOPS AT WIREGRASS: For more information, visit www.theshopsatwiregrass.com. The Shops at Wiregrass is co-owned and managed by Forest City Commercial Management, an affiliate of Forest City Realty Trust, Inc., a NYSE-listed national real estate company.
You are cordially invited to cover this community event.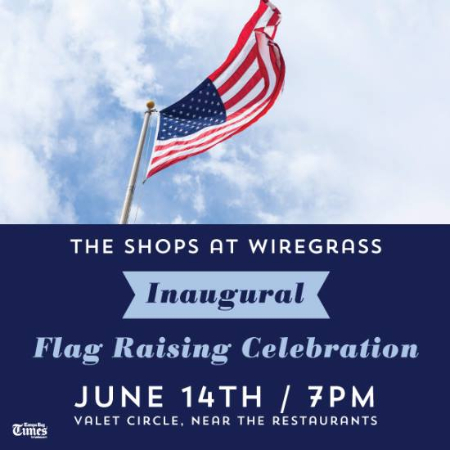 ###